What is the HoloLens 2?
The HoloLens 2 is a mixed reality smart glasses developed by Microsoft. It offers an immersive experience, combining the virtual world with the real. The HoloLens 2 is the successor to the original Microsoft HoloLens. It is an untethered visor that creates a new vision and experience for computing. Microsoft hopes it brings mixed reality solutions for businesses.

What is the HoloLens?
The HoloLens is the original mixed reality system created by Microsoft. It was released in 2016, available for pre-order. The HoloLens functions as a wearable computer that has a built-in Windows 10 computer and lenses. Like the HoloLens 2, it also has Wi-Fi connectivity.

However, the HoloLens 2 has improved in many areas that the HoloLens lacked. Originally, it had a field of view of 30 degrees, a 2.5-hour battery life and was much heavier. The HoloLens 2 is much lighter and has a more ergonomic fit. It also features a 3-hour battery life and has a massive 52-degree field of view. The display has changed for the better. The HoloLens was very basic when it came to hand tracking and gesture recognition. The HoloLens 2 has improved upon this and now offers tracking in 3D space, down to the individual finger. The HoloLens 2 has filled in the gaps for what the HoloLens failed to do, or had a poor performance in.

What is the HoloLens 2 used for?
The HoloLens 2 is used for enterprise implementations. It is not designed for the average consumer, as it offers many applications and uses for businesses. Some of the following uses are:
Remote Assistance
Training & Task Guidance
Collaborative Visualization
Contextual Data Access
Some companies are using the HoloLens in conjunction with their work. A furniture company, for example, uses the HoloLens 2 to create a demo of a piece of furniture in a room as a life-sized object. You can also see a virtual wall of photos, see digital PDFs in front of you, and do many other things that bring virtual and reality together.

Microsoft HoloLens 2 also allows you to map out a world and see 3D maps of digital things in real life. This allows the user to have an immersive and instinctual experience, which can be used for many industries. Since it does not have any wires, it can be used to view 2D and 3D content from any position. It can be moved and taken with you from workplace to workplace, creating an interactive imagery for your use.

HoloLens 2: Specifications
Below are some of the main tech specifications of the HoloLens 2:

Optics: See-through holographic lenses (waveguides)
Resolution: 2k 3:2 light engines
Holographic Density: >2.5k radiants (light points per radian)
Eye-based Rendering: Display optimization for 3D eye position
Head Tracking Sensor: 4 visible light cameras
Eye Tracking Sensor: 2 IR cameras
Depth: 1-MP time-of-flight (ToF) depth sensor
IMU : Accelerometer, gyroscope, magnetometer
Camera: 8-MP stills, 1080p30 video
Audio: 5 channels
Speakers: Built- in spatial sound
SoC: Qualcomm Snapdragon 850 Compute Platform
HPU : Second-generation custom-built holographic processing unit
Memory: 4-GB LPDDR4x system DRAM
Storage: 64-GB UFS 2.1
Wi-Fi: Wi-Fi 5 (802.11ac 2x2)
Bluetooth: 5
USB: USB Type-C
Weight: 566g
Battery Life: 2-3 hours of active use
Charging: USB - PD for fast charging
Cooling: Passive (no fans)
Contains Lithium batteries
Eye Tracking: Real time tracking
Spatial Mapping: Real time environment mesh
Mixed Reality Capture
Voice: Command and control-on device
6DoF Tracking: World-scale positional tracking
Mixed Reality Capture: Mixed hologram and physical environment photos and videos
Hand Tracking: Two-handed fully articulated model, direct manipulation
Windows Hello: Enterprise-grade security with iris recognition
For a full list of the specifications, click here.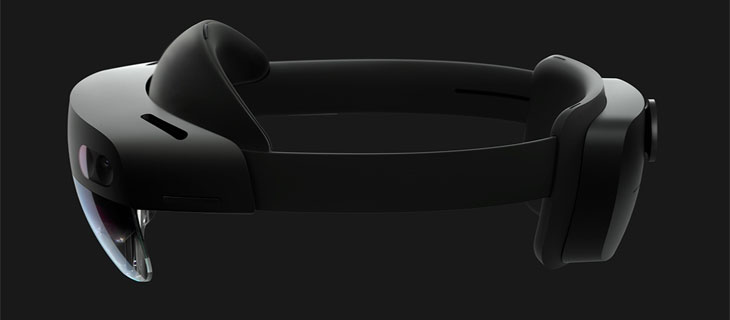 How much is the HoloLens 2?
In America, the retail price of the HoloLens 2 depends on the pricing option you choose. The HoloLens 2 developer edition costs US$3,500. If you want to pair with the Dynamics 365 Remote Assist subscription, the cost is US$4,500.
What's in the box for HoloLens 2?
By buying the HoloLens 2, you will receive:
HoloLens 2 visor
Carrying case
Overhead strap
Microfiber cloth
Charger
USB-C cable
What is the Release Date for the HoloLens 2?
The HoloLens 2 was released on November 7, 2019 in the USA.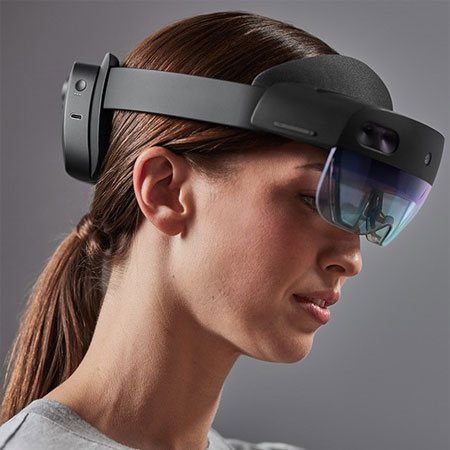 HoloLens 2 Reviews
Many HoloLens 2 reviews can be found online. Below are some quotes from publications that have reviewed the HoloLens 2.
"Thanks to its padded brow pad and padded back, it was a snug, comfortable fit. I was able to keep my glasses on, and the HoloLens 2 slipped right over them." - Digital Trends
"The best way I can describe it is like Google Maps' turn-by-turn directions for real world instructions -- or like a floating Lego manual for reality. I move my eyes over each step-by-step card that floats in the air in front of me." - Cnet
"That's one of the big improvements the Microsoft HoloLens 2 received, with the design being both smaller and lighter. We immediately noticed the weight difference when we put it on, and it's down to the company's new carbon fiber build." - Tech Radar
How can I buy the HoloLens 2 if I'm not in the USA?
The good news is that even if you're not based in the USA, you can still purchase the HoloLens 2. The USA HoloLens website does not offer international shipping, but our shopping service can help you buy the HoloLens 2 and deliver it to your international address.

Which countries can Big Apple Buddy ship the HoloLens 2 to?
Big Apple Buddy can help you buy the HoloLens 2 from the USA and deliver it you internationally. We currently offer international shipping to the following countries:

Albania, Australia, Austria, Azerbaijan, Bahrain, Belgium, British Virgin Is., Brunei, Bulgaria, Canada, Cayman Islands, Cook Islands, Croatia, Cyprus, Czech Republic, Denmark, Estonia, Faeroe Islands, Fiji, Finland, France, French Polynesia, Germany, Gibraltar, Greece, Greenland, Guam, Hong Kong, Hungary, Iceland, Indonesia, Ireland, Israel, Italy, Japan, Jordan, Kuwait, Latvia, Liechtenstein, Lithuania, Luxembourg, Macau, Malaysia, Maldives, Malta, Marshall Islands, Martinique, Mauritius, Micronesia, Moldova, Monaco, Montenegro, Montserrat, Netherlands, New Caledonia, New Zealand, Norway, Oman, Papua New Guinea, Poland, Portugal, Qatar, Reunion Island, Romania, Saudi Arabia, Serbia, Singapore, Slovak Republic, Slovenia, South Africa, South Korea, Spain, St. Lucia, St. Vincent, Sweden, Switzerland, Taiwan, Thailand, U.A.E., United Kingdom and Vatican City

To place an order for the HoloLens 2, please visit our website here.