What is the Microsoft Azure Kinect DK?
The Microsoft Azure Kinect DK is a developer kit that uses advanced AI sensors for computer vision. The device integrates Microsoft's sensor technology, which includes an advanced depth sensor, a microphone array with a video camera and an orientation sensor. The Azure Kinect can be used in multiple industries, such as retail, robotics, logistics and manufacturing, and health and life sciences.
Azure Kinect DK: Technical Specifications
Below is a brief summary of the Azure Kinect DK specifications:

Depth camera: 1MP Time-of-flight (Azure Kinect Camera)
RGB camera: 12MP CMOS sensor rolling shutter (Azure Kinect Sensor)
IMU: 3D digital accelerometer and a 3D digital gyroscope
Microphone: 7-microphone circular array
USB-C data connector
Power through USB-C (USB-C to USB-C cable not included) or external PSU
Sync connectors to synchronize multiple units

A more detailed information sheet on the Microsoft Azure Kinect specifications can be found here.
Azure Kinect DK: What is in the box?
The Azure Kinect DK box contains the following items:

Azure Kinect DK
Stand
USB-A to USB-C data cable
Power Supply
Wrench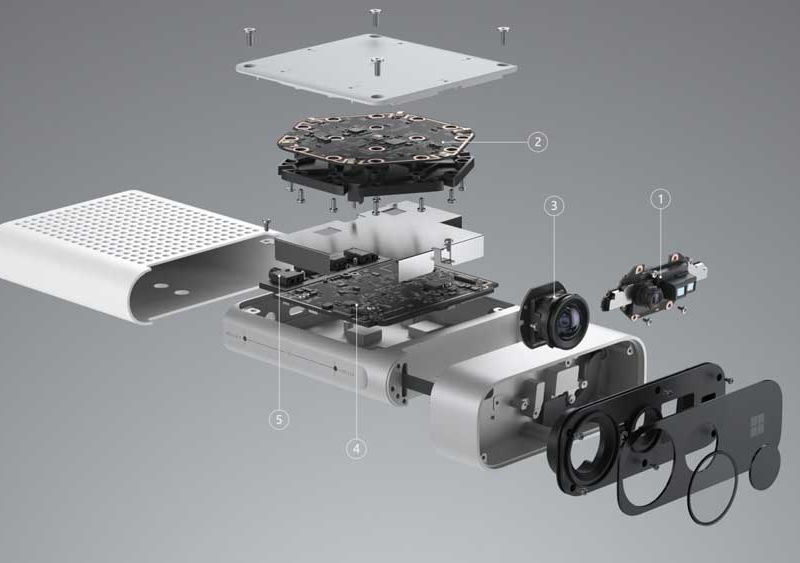 How much is the Azure Kinect DK?
In America, the retail price of the Azure Kinect DK is US$399. Given the capability and performance of the Azure Kinect camera and the Azure Kinect sensor, the price is regarded by businesses and enterprises as being affordable and excellent value.
Azure Kinect DK Reviews
Many Azure Kinect DK reviews can be found online. Below are some quotes from publications that have reviewed the product:
The Verge – Reading this will give you an in depth understanding of the Azure Kinect Sensor
Trusted Reviews – Learn about the Azure Kinect specs in more detail and the AI technology used to power the Azure Kinect
Skarred Ghost – This is by far the most in-depth read as it goes into the individual specs, the history, and provides an information chart about the Azure Kinect Camera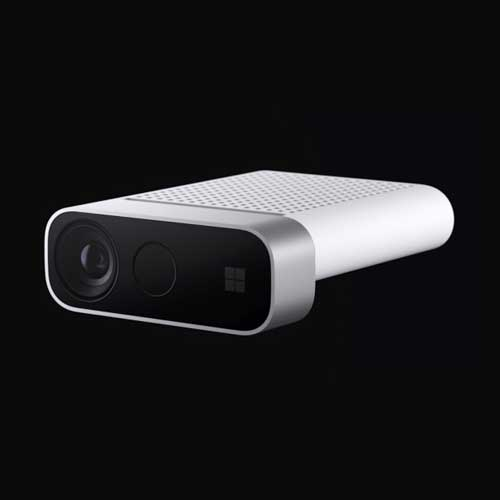 What is the Azure Kinect DK Release Date?
The official release date for the Azure Kinect DK was 24 February 2019. Preorders for the Microsoft Azure Kinect SDKs were made available to individuals, businesses and enterprises in the US and China on this date.
Unfortunately, details on the release date and availability have not yet been announced for other markets.
However, developers and businesses that live outside the US and China can still purchase the Microsoft Azure Kinect immediately without the wait. Read on to learn how!
How can I buy the Azure Kinect DK if I'm not in the USA?
The good news is that even if you're not based in the USA, you can still purchase the Azure Kinect DK. The USA Microsoft website does not offer international shipping, but our shopping service can help you buy the Azure Kinect DK and deliver it to your international address.

How does it work? Simply visit our Azure Kinect product page here and place an order. Once we receive your payment, we'll purchase the item from the USA Microsoft store and ship it to your international shipping address in as little as 2-4 business days. It's that easy!
Which countries can Big Apple Buddy ship to?
Big Apple Buddy can help you buy the Azure Kinect DK from the USA and deliver it you internationally. We currently offer international shipping to the following countries:
Albania, Australia, Austria, Azerbaijan, Bahrain, Belgium, British Virgin Is., Brunei, Bulgaria, Canada, Cayman Islands, Cook Islands, Croatia, Cyprus, Czech Republic, Denmark, Estonia, Faeroe Islands, Fiji, Finland, France, French Polynesia, Germany, Gibraltar, Greece, Greenland, Guam, Hong Kong, Hungary, Iceland, Indonesia, Ireland, Israel, Italy, Japan, Jordan, Kuwait, Latvia, Liechtenstein, Lithuania, Luxembourg, Macau, Malaysia, Maldives, Malta, Marshall Islands, Martinique, Mauritius, Micronesia, Moldova, Monaco, Montenegro, Montserrat, Netherlands, New Caledonia, New Zealand, Norway, Oman, Papua New Guinea, Poland, Portugal, Qatar, Reunion Island, Romania, Saudi Arabia, Serbia, Singapore, Slovak Republic, Slovenia, South Africa, South Korea, Spain, St. Lucia, St. Vincent, Sweden, Switzerland, Taiwan, Thailand, U.A.E., United Kingdom and Vatican City
To place an order for the Microsoft Azure Kinect DK, please visit our website here.