Virtual Reality Overview
There's no denying that we've finally entered the age of virtual reality. 2016 has been the year of major virtual reality developments in the USA with headsets like the
Oculus Rift, HTC Vive, Avegant Glyph, Razer OSVR,
and
PlayStation VR
taking it to the mainstream. The era of virtual reality headsets started around 2012 when the Oculus Rift began development, culminating in a March 2016 USA release. Virtual reality, for those unfamiliar with the budding technology, is immersive multimedia or computer-simulated reality. Said computers replicate an interactive environment and simulate a user's physical presence within it. Virtual reality headsets are head-mounted devices aimed to provide this immersive virtual reality experience, often for the purpose of gaming or simulations. The set up usually consists of a stereoscopic head-mounted display and head motion tracking sensors. Some also include headphones, built in or audio port, eye tracking sensors, and additional handheld controllers. The user's head movements are tracked in a simulated three-dimensional world. Keep reading for a basic overview of some of the VR Headsets that are revolutionizing both gaming and entertainment.
Best VR Headsets: HTC Vive
The HTC Vive, released in the USA in April 2016, is perhaps the most advanced VR headset out there so far. The headset itself utilizes laser position sensors, an accelerometer, gyroscope, and a front-facing camera to perfectly capture a user's movement and translate it to the VR experience. The front-facing camera impressively blends real-world elements into the virtual world, further heightening realism and accuracy. OLED technology is used to create a 110° field of view. The resolution is one of the best out there at 2160 x 1200 and a refresh rate of 90 Hz, making for smooth action. Audio is not built in, but a pair of earbuds is included in the box. A user can also plug in their own headphones if they wish, making the audio experience highly customizable. The mic, on the other hand, is built in, allowing the user to answer calls while wearing the headset. You can look forward to game developers coming up with creative new ways to utilize this feature. Along with the headset, the HTC Vive also comes with two handheld controllers and two base stations enabling 360° room-scale motion-tracking. The base stations themselves sync wirelessly, but do require a power cable. The handheld controllers are completely wireless and each has 24 sensors for accurate motion tracking. They also boast dual-stage triggers with HD haptic feedback and a multi-function track pad. The HTC Vive headset fits perfectly on even those wearing glasses due to an adjustable strap. Interchangeable foam inserts and nose pads are also included, contributing to balanced comfort. The HTC Vive has a current price of $799, making it one of the more expensive headsets on the market, though it is well worth the price.
Nick Pino reviewing for techradar
writes, "If you have the budget, the HTC Vive is the best virtual reality experience on the market, bar none."
Best VR Headsets: Oculus Rift
The Oculus Rift headset comes with many of the same specs as the HTC Vive with a few key differences. Head tracking is accomplished using an accelerometer, gyroscope, magnetometer, and 360° positional tracking. The display is provided by OLED technology and the resolution is also 2160 x 1200 with a refresh rate of 90Hz. Differing from HTC Vive, the Oculus Rift has both a built in microphone and built in audio. Weighting only ~470g, the headset is also light and comfortable. Though the Oculus Rift currently does not come with any other devices, Oculus Touch is set to be released during the second half of 2016 and will be sold separately. These handheld controllers are lightweight and utilize constellation tracking for accuracy. They feature joysticks, buttons, and two triggers (one for grabbing and one for shooting or firing) optimizing interaction with the environment. The controllers also have a built in system for detecting finger gestures made while holding the devices, allowing any number of hand gestures or signs to be displayed in the VR. Coming in at a retail price of $599 in the USA, the Oculus Rift is affordable.
Michelle Fitzsimmons, reviewing the Oculus Rift for techradar
, calls it an "outstanding device that delivers the kind of virtual reality we've only ever dreamed of. The headset has come so far, so fast, and it's only going to get better."
Best VR Headsets: Avegant Glyph
Released in the USA in March 2016, the Avegant Glyph stands out as unique among the other contenders on this list. The design resembles a sleek pair of headphones, only these can be lowered so that the strap equipped with two eyeholes is turned into a wearable cinema. Weighing only 411g, the device can be used for either audio or vision plus audio, making it perhaps the most versatile and attractive of its kind. Since the headset is wireless, the Avegant Glyph is also much more portable, being able to play up to 4 hours of video playback and unlimited passive audio. Head tracking is made possible by 9 Axis IMU and resolution comes in at 1280 x 720. What is perhaps most impressive is the fact that the Avegant Glyph has no screen, but rather recreates natural sight. Retinal imaging technology uses advanced optics and microscopic mirrors to project images directly to the eyes. Lifelike images are rendered in 360° video. Even more impressive is the eye adjustment feature, making it possible for those with eyeglass prescriptions to watch without the use of glasses. Users can not only watch 360° media with full head tracking, but also view any other content including but not limited to TV shows, movies, streaming video, and games. With a single HDMI input, the Avegant Glyph is also compatible with smartphones, tablets, laptops, game consoles, streaming media players, drone transmitters, and more. The Avegant Glyph goes for a retail price of $699 in the USA and has been celebrated for its cinematic features. For an in depth and hands-on review, consider reading
James Trew's article for engadget.
Best VR Headsets: Razer OSVR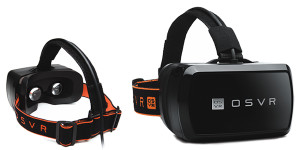 Released in the USA back in June 2015, the Razer OSVR is one of the older headsets on our list, though it continues to be both the most affordable and customizable. With a removable facemask with a bamboo charcoal microfiber foam layer, additional foam padding for cheekbones, and a nose bridge featuring rubber nose inserts, it sounds pretty comfortable too. Head tracking is achieved by an accelerometer, gyroscope and compass sensors and the display is provided by a 5.5" OLED. A dual lens optics system with individual eye focus for personalized use makes for even sharper images. The faceplate module provides 360° positional tracking in combination with an IR Camera operating at 100Hz. Motion sensors enable the user's hands to appear within the experience so that you are able to touch and interact with your environment. These are just the built in specs. What is most unique about the Razer OSVR is that it is built on an open source platform that aims to set a new standard for VR and inspire developers and big name brand companies to push VR tech forward. It must be stressed that this is a development kit. It is not a fully-fledged consumer product, but anyone can still buy the device. The Razer OSVR caters to both mainstream games and mobile experiences making it a highly adaptable for consumer use. At just $299.99 in the USA, the Razer OSVR is designed for affordability, yet still boasts impressive specs. For anything else you want or need to know about this headset, consider reading
Paul Lamkin's review for WAREABLE.
Best VR Headsets: PlayStation VR
Last on our list comes the not yet released PlayStation VR. Set to be released in the USA in October 2016, this headset appears to be very promising. Head tracking is provided by an accelerometer, gyroscope, and PlayStation Eye tracking system which is sold separately. The headset has a display of 1920 x 1080 with 120 frames per second and a 5.7" RGB OLED. All of this culminates in an interactive 110° field of view complimented by 3D audio technology. Needed for this headset, but also sold separately, is a PlayStation 4 console, Move controller, and PlayStation Eye camera. The camera is crucial for the function of the headset as it tracks the LEDs around the headset, the DUALSHOCK 4 wireless controller, and PlayStation Move motion controller in order to capture natural movement in virtual space. The PlayStation VR is set to be sold for $399 in the USA and promises to be complimented by a large selection of at least 50 game titles being created by over 200 developers.
Nick Pino writing an early review for techradar
proposes that this might be the greatest draw, as there is guaranteed to be something for everyone.
Best VR Headsets: Buying from the USA
While the first four headsets are already available, this only goes for certain countries, including the USA. The PlayStation VR, on the other hand, will not be released until October 2016, but it may take a significant amount of time for it to make it to your specific country after this initial release date. Why wait any longer than you have to? Consider using Big Apple Buddy to get your hands on one of these highly revolutionary headsets now rather than much later.
Learn more about our service
or
get a free shipping quote
for a virtual reality headset today!  
ABOUT BIG APPLE BUDDY
Big Apple Buddy is a New York based e-commerce company, founded by two former Australian corporate lawyers. Our shopping concierge service helps consumers around the world buy the latest tech products from the USA. 
We ship to over 100 countries worldwide, including Australia, Austria, Bahrain, Belgium, Bosnia & Herzegovnia, Brazil, Brunei, Canada, China, Croatia, Cyprus, Czech Republic, Denmark, Estonia, Finland, France, Germany, Hong Kong, Hungary, Indonesia, Ireland, Israel, Italy, Japan, Kenya, Kuwait, Latvia, Lichtenstein, Lithuania, Luxembourg, Macau, Madagascar, Malaysia, Maldives, Marshall Islands, Mexico, Namibia, Netherlands, New Zealand, Norway, Oman, Portugal, Saudi Arabia, Scotland, Serbia, Singapore, Slovenia, South Africa, South Korea, Spain, Sri Lanka, Sweden, Switzerland, Taiwan, Tanzania, Thailand, UAE, UK, Ukraine, Vietnam and more!